Women As Value Drivers & Union Budget 2018 - A Change Agent For Reforming India
Date: March 09, 2018
Place: Crowne Plaza Doha - The Business Park
Dear Members,
Greetings from
Doha
Chapter of
ICAI
!
Please be informed that we will be having our first full day CPE Seminar for term 2018, on

Friday, March 9,2018

at Crowne Plaza

Doha

- The Business Park. We will be having a session to mark the occasion of International Women's Day followed by session on Analysis of Union Budget 2018 addressed by a very distinguished speaker.
Women as Value Drivers
Speaker - Ms. R M Vishakha
MD & CEO India First Life
Challenging Roles of Women - Changing perceptions
Risk Audit & Risky Audit - The Changing Landscape
Speaker - CA Sripriya Kumar
Central council Member ICAI, Chairperson CPE Committee, ICAI
Union Budget 2018- A Change Agent for Reforming India
Speaker - Shri Pitambar Das
This full day event will be graced by the presence of various dignitaries in Qatar.
Further information regarding the Speakers, dignitaries and confirmation of CPE credit for this event will be sent to you in due course. We are applying for 6 hours of CPE credit for the Seminar.
May I request you to block
your
calendar
to attend this event.
I also request you to confirm
your
participation by
submitting the Response form available at the below mentioned link
on or
before

March 6, 2018
for us to make the necessary arrangements.
Look forward for
your
active
participation.
CA Rupalakshmi Setty
Chairman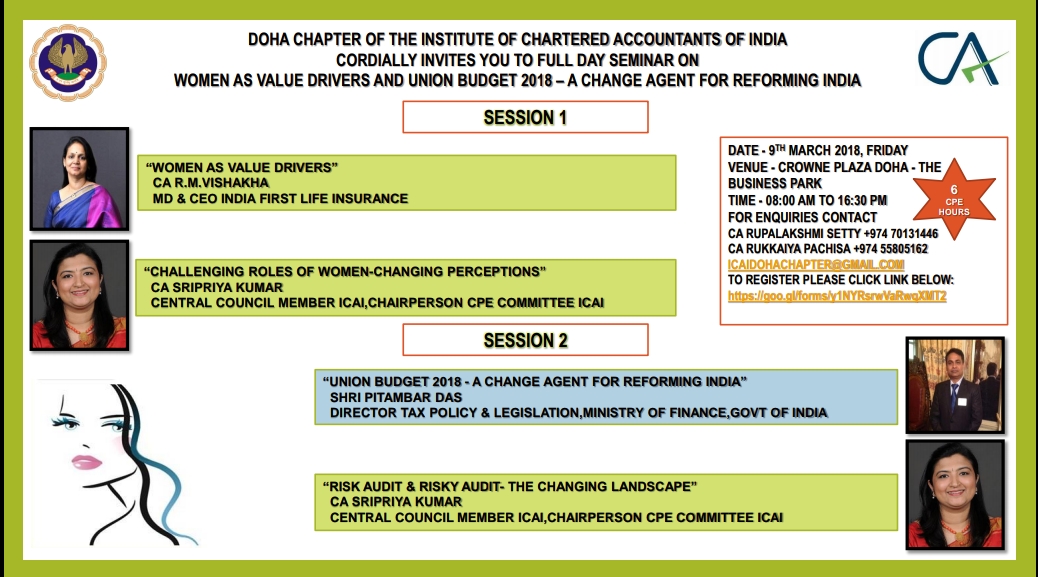 Past Events