Annual Cricket Fiesta 2018
Date: April 28, 2018
Place: IDEAL INDIAN SCHOOL GROUNDS, NEAR MIDMAC ROUNDABOUT
Dear Members,
Greetings!
At the outset I thank all members who have confirmed their participation for the cricket fiesta 2018.
The participation has very encouraging to the extent that this year cricket fiesta been upgraded to a league with the participation of 6 teams for the first time in the history of the chapter.
The preliminary matches were held on April 6, 2018 which will be followed by Semi Finals on April 13,2018 at the QCA grounds.
The results for preliminary matches are as under :
Match 1: Aster led by CA Arun Somnath vs Quantum Global Solutions led by CA Anish Kurupath. Aster scored 128 in allotted 20 overs which was chased by Quantum in 16.1 overs. Man of the match is CA Rajesh Singh scoring 26 runs in 12 balls and taking 2 catches.
Match 2: Al Balagh Team lead by CA Mohit Monga vs Doha Bank team lead by CA Jigar Shah. Doha Bank scored 183 in alloted 20 overs which was chased by Al Balagh team in 18.5 overs. Man of the match is CA Mohit Monga scoring 69 runs in 26 balls and bowling 3 overs 21 for 1 wicket.
Match 3: Mosafer Team led by CA Harikrishna Mahadevan vs Centerpoint team led by CA Jithu Koshy. Centerpoint scored 138 runs in alloted 20 overs which was chased by Mosafer Team in 19.4 overs. Man of the match is CA Harikrishna Mahadevan who scored 18 runs in 11 balls and bowled 3 overs for 11 runs picking up 3 wickets
The three team winners and the team runner-up with lowest margin goes through to the Semi-finals scheduled for Friday, 13th April 2018. Match starts at 7.30 am at QCA Grounds.
Attached is the details of the semi-Final teams :
Team 1 : Quantum Global Solutions vs Center Point
Team 2 : Al Balagh vs Mosafer
The Cricket Fiesta 2018 Finals will be played under floodlights on APRIL 28,2018, SATURDAY, AT IDEAL INDIAN SCHOOL GROUNDS, NEAR MIDMAC ROUNDABOUT FROM 5 PM ONWARDS.
The Family Event will start at sharp 5 pm with the ladies cricket match followed by the grand finale, raffle draw and dinner.
The Cricket Committee and the Excom is working hard to organize this tournament and am glad to inform you that we have achieved considerable progress in terms of the preparations.
We are happy to inform you that Shri S. Raman, Olympian & Arjuna Award Recipient in Table Tennis will be Chief Guest for our Cricket Fiesta 2018. Shri Raman represented the state in the year 1985 and INDIA in 1989 SAF GAMES, Islamabad and has won the first-ever Commonwealth Gold for India at the Commonwealth Championships—held at Glasgow. Raman represented India for more than a decade with many International medals. Raman represented India at the Sydney Summer Olympics 2000, Millennium Olympics.
The committee is striving hard to get in touch with potential sponsors for the event to help deliver a better experience and to contribute to raffle draw prizes. In this context, we reiterate our appeal to you, our members, to assist in obtaining sponsorship and raffle draw gifts for this event and look forward to your assistance to make it a grand success.
We request all the members to confirm their participation by submitting the response form available in the link https://goo.gl/forms/vdcQ0mNKlvVEAuZj2 on or before April 22,2018 so as to make adequate arrangements for the event.
Please note the following:

1. Only members who have paid their annual membership fees will be permitted to play the games and receive the raffle draw coupons. Therefore members who are yet to pay their annual membership fee are kindly requested to remit the same into the Doha Bank Account of our Chapter and send us details of the remittance to icaidohachapter@gmail.com or alternatively pay cash during the finals at thecricket ground.

2.This event is open only for members and their families. Please do not bring any friends or other guests.

Thank you once again and look forward to your participation.

Best Regards,


CA Rupalakshmi Setty
Chairperson
Doha Chapter of ICAI
Mobile- +974 70131446
Email : icaidohachapter@gmail.com
Website : www.icaidohachapter.org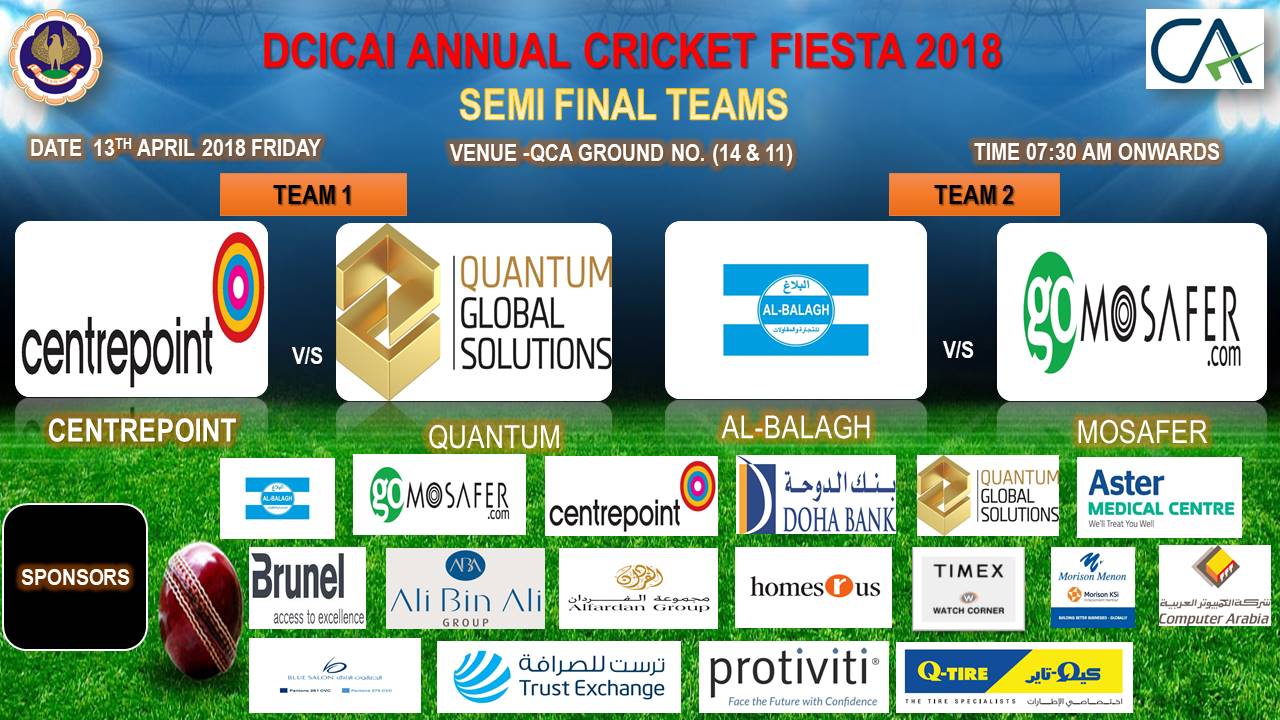 Past Events